Earlier this week, I announced the beginning of a new blog series: A Year of Green Living.  I'll be sharing my personal research and testing of a wide variety of eco-friendly products. We won't address organic and natural clothing in this series since that's been the mainstay of the blog to date, and there are already over 100 posts on that topic. OK, let's get started!
First up in the series is Natural Deodorant.  As an athlete who tends to sweat a lot, finding an all-natural deodorant that actually worked was more than frustrating.  I tried brand after brand only to find that half way through the day I had developed a noticeable aroma and/or that in the middle of my workout I didn't want to lift my arms anymore.  For almost 6 months, I felt like I had a ripe stench nearly every day.  Eventually, I did find a deodorant that works, even for sweaty athletes.
Here are the criteria by which I judged the deodorants I tried:
It had to last all day and night.  If I put it on after my shower in the morning, I wanted to wake up the next morning without underarm odor.
If I was working out that day, the deodorant had to cover underarm odor throughout the full length of the workout (no matter how long that was.)
It had to be free of aluminum, parabens and phthalates.  (This article explains the worst chemical offenders in deodorants and why they're bad.)
It had to smell nice using only essential oils or natural fragrances, no chemical perfumes.  (Most of the brands I tried offered a fragrance free option for those who may have sensitivities to any type of fragrance.)
The Winners
#1:
Terressentials Super Protection Deodorant
Pros: This is my go-to brand and I was so happy to finally find it.  I mostly use Zen Spice, which smells amazing, but occasionally also get Lavender Fresh just for a change of pace.  This deodorant got me through marathon training this summer.  While my whole body smelled of sweat after a 4-5 hour run in 80 degree temperatures, my underarm odor was completely diffused with this fantastic roll-on.
Cons: It does leave white lines on your clothing when it's wet.  So if you get dressed right after putting it on, you have to be careful about not touching the outside of your shirt.  It has always washed out, though.  Also, this brand hasn't really broken into the natural foods markets yet, so it has to be purchased online unless you live in Maryland.
#2:
Schmidt's Deodorant
Pros: For those who prefer a solid stick deodorant over a roll on, Schmidt's is my second choice. I've only used the Lavender Sage, but the Bergamot Lime smells divine – a great choice for men, too.  It keeps odors at bay for a full 24 hours, and works almost as well at the gym as Terressentials.
Cons: I find it a little sticky going on, which is why I favor Terressentials, but otherwise it's a close second.  I tried the deodorant jar and found the application absolutely ridiculous.  I still have 3/4 of a jar sitting in my cabinet, so I don't recommend that variety
#3: Crystal Deodorant Stick
Pros: I wasn't really expecting the crystal deodorant to work.  It seemed more like a gimmick than a real solution.  But I was pretty shocked at how well it kept odors at bay.  It might also be a great choice for someone with chemical sensitivities.  The trick with this is that you have to add a little water to the top to loosen it up before using.  Then you really have to be sure to rub it on for a while, about 10 full seconds under each arm.  This is also the cheapest solution to natural deodorant that I found, because it seems to last forever.  It's also easy to find at drug stores, grocery stores, online and even some department stores.
Cons: It has no smell at all, which might be great for some folks, but I personally prefer an essential oil scent.  While 10 seconds per arm is really no time at all, it's a little more effort than the normal swipe and go of a roll on or stick.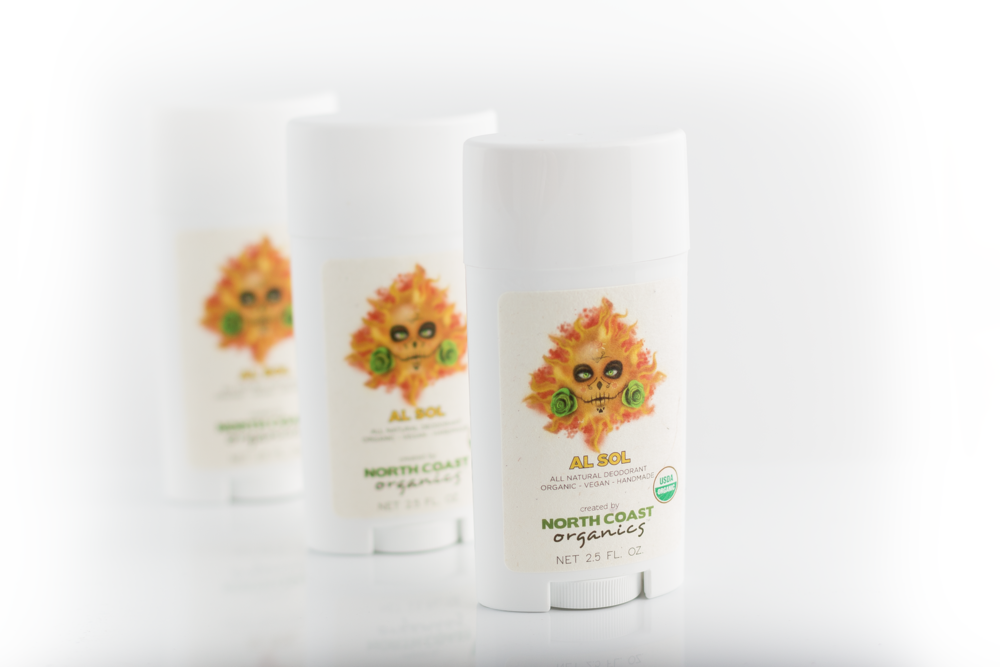 #4.
North Coast Organics Deodorant
Pros: This brand is similarly effective to Schmidt's at #2.  The AL SOL scent is very refreshing.
Cons: I found it even more sticky going on than Schmidt's so I don't ever buy it myself.  However, everyone has different preferences and this brand does work.
The Losers
I did the big deodorant sampling many years ago, and I no longer have the complete list of brands I tried.  There were so many from my local natural foods store, it's ridiculous.  Here are some of the ones that I remember and/or still have in my bathroom because I only used them once or twice and hated to throw away the whole thing.  Some of these would last most of the day, but have me getting up in the morning smelling like I hadn't showered in 2 weeks.  Others were so bad that I was embarrassed before I'd even left work.  In some cases, I tried more than a few scents of the same brand.
Hugo Naturals Solid Deodorant
Tom's of Maine Solid Deodorant
Aubrey Organics E Plus High C Roll on
Jason's Natural Solid Deodorant
Via Nature Stick Deodorant
GeoDeo Detox Deodorant – this one was marginally effective and smelled nice, but had a lot of questionable ingredients for a "natural" deodorant.
I should mention that I like other products from some of these brands, so this is not meant to dis the whole brand, just their deodorant.  Also, I imagine that deodorant effectivity may depend on each person's personal chemistry, but hopefully this will provide a good place to start.